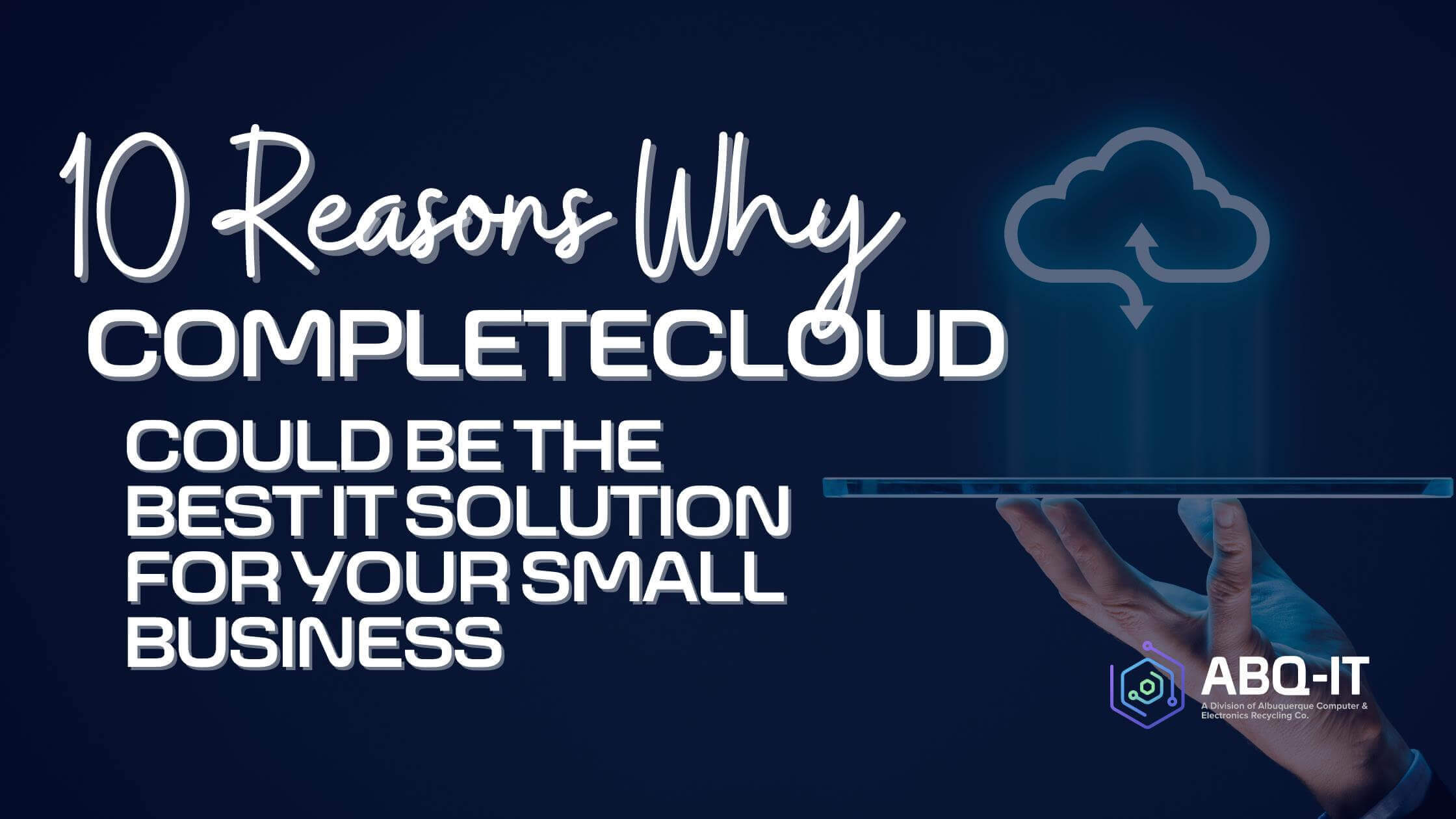 If you've landed on this blog post, there's a chance that your IT infrastructure is starting to show its age and it might be time for an upgrade.
We are living in an increasingly digital world where new technology becomes available daily which means more data storage every year-round if we don't do something about it! Not only does choosing the right tools help us grow our businesses but also keeps us ahead of competitors by ensuring customer experience stays high quality at all times. If I were looking into expanding my business or thinking about what managed service provider would best suit my needs today then some things I've considered before making any decisions would include:
We know that scheduling a conversation with our team is the best way to find out if CompleteCloud will be right for your unique needs. If any of these signs resonate with you, then don't hesitate another minute before calling us!
You've outgrown your current solution. There are a few things that need to change in order for the business to continue running smoothly- like needing higher capacity or better economics. That's why CompleteCloud was built with an inclusive per user/month pricing model so it can scale alongside whatever changes might be needed as times move on!
You've recently experienced a virus or security issues. If you're even slightly concerned about your company's cybersecurity, we should talk! CompleteCloud is the most secure IT platform on the market thanks to our layered approach and decades of experience that has earned us top awards for excellence.
You need to address compliance issues. It's no wonder that highly regulated industries such as aerospace/DFARS, healthcare and financial services make up a large percentage of our client base. With compliance issues top on the list for businesses to move towards CompleteCloud systems, we have been able to provide these clients with reliable computing solutions!
Do you have a disaster recovery plan? In the event of a natural disaster, business leaders can be confident that their operations will continue regardless of what happens to them and how long it takes for help from outside sources such as emergency services or government agencies. Click here if you're interested in learning more about creating your own personalized plan!
You've been thinking about upgrading your hardware. You need new computers, additional storage or a server replacement? With CompleteCloud you never have to purchase any more equipment again! Their monthly subscription includes everything from the computer parts all the way up through phone and internet services so it's easy as pie for everyone involved
Your employees are scattered all over the world, and you want to make sure they stay productive in their work. CompleteCloud gives your organization an easy way for them to accomplish that via Avatara Connect by allowing seamless communication between teams across different locations or time zones while also providing business analytics functions which allow managers to monitor output much easier than ever before!
Avatara Connect gives your company a seamless way to work remotely. If we learned anything in 2020, it's that being prepared for any given moment means crucial productivity and staying 100% productive from anywhere is key - even if you're not at the office! Avatara Connect offers collaboration platform so everyone can be engaged with all aspects of their job whether they are part-time remote workers who need access on occasion or full time employees looking towards increasing flexibility through telecommuting options
You deserve better customer service. We know what you're going through and we want to help fix it with our 24⁄7 US based Avatara support team, which provides automated proactive services for quick resolution of issues that arise anytime without long hold times or frustrated agents on the other end waiting indefinitely . You can also rely upon Artificial Intelligence powered diagnostics in order to prevent these problems before they start!
Your programs are running slowly. You know that with unlimited data storage, proactive AI support and 24⁄7 access to our technicians you're in good hands - CompleteCloud users can rest assured their information won't be lost because of a slow computer!
Your IT is taking up more time and energy than it should. Bottom line, your information technology (IT) resources should be a competitive advantage—not just something you have to deal with on top of everything else in life
To sum it up: CompleteCloud is a revolutionary Smart Platform that was built for security and productivity conscious businesses. It offers an all inclusive pricing model, delivering its customers peace of mind while offering them competitive advantages over other organizations in need! Interested? Let's talk about how we can revolutionize your approach.