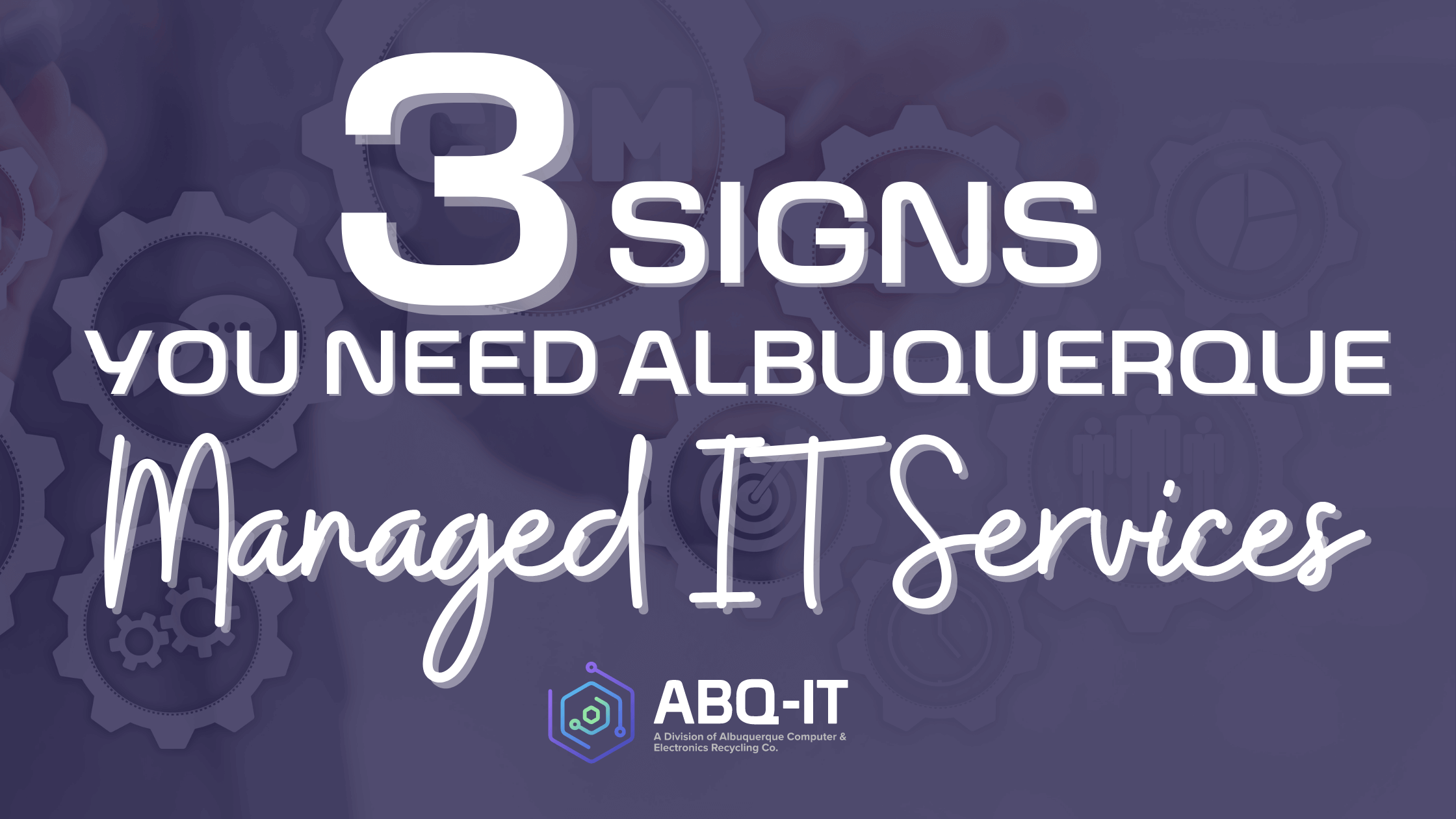 3 Signs You Need Albuquerque Managed IT Sevices
Some small-to-medium businesses are able to get by hiring IT support for set-up, major transitions, and emergency IT support when things go wrong. Or perhaps slightly bigger companies have their own internal IT support. But for many businesses, there comes a time when managed IT support just makes more sense. Read on if you're not sure how Albuquerque managed IT support is different, or if it's the right time to transition your business to managed IT support. We'll share the top 3 signs you need to switch to managed IT services.
Updating Hardware is Becoming a Huge Expense
Your employees need hardware that will make it easy for them to do their job. The last thing you want is outdated hardware causing inefficiencies. Still, it is costly to update hardware on a regular basis, and unless you have a good plan in place, the sticker shock can be a lot. 
Managed IT service is reoccurring IT support that covers all your IT needs, including replacing hardware without the added expense. In most cases, your monthly fee will include not only the day-to-day IT support that your business needs but also covers the cost of hardware updates as needed. At ABQ-IT, we can do this even more effectively than other IT companies because we partner with our sister company—Albuquerque Computer & Electronics Recycling Co.—to provide refurbished hardware that saves you money and is guaranteed to work like new.
If updating the hardware (computer monitors, laptops, printers, tablets, etc.) is a daunting expense for your company, it's time to think about transitioning to managed IT support.
Support Tickets Aren't Getting Answered Quickly Enough
Even if you have a relationship with an IT support company, if you aren't on a managed IT plan, you might not be getting the fastest service when you need IT support. If your business is losing money because of the lag time between requesting support and when support is actually able to help, it's time to consider managed IT support.
At ABQ-IT, we work with each client to determine a reasonable response time for their business. Some of our most immediate response times are four hours, and our longer response times are within 24 hours. We create a service-level agreement with each business we work with, based on the company's needs.
IT Vulnerabilities Keep You Up at Night
Every company has IT vulnerabilities. But long gone are the days when a company can just cross their fingers and hope a securities breach or IT meltdown doesn't happen to them. Studies show that 45% of US companies have experienced a data breach. It doesn't have to be a destined thing, though. Managed IT services ensure that your firewall is constantly working, that all software, including anti-virus software, is up to date, and that all vulnerabilities are covered. 
Additionally, with managed IT services, if there were suspicious activity, the IT company already have access to all the information it needs to get on top of the problem. Response time to a cybersecurity issue is greatly reduced if your company is already has a great working relationship with an IT company.
Get Started with Albuquerque Managed IT Services Today
If hardware is becoming a considerable expense, you're not getting the level of support you need, or you're constantly worrying about the potential fallout of a data breach, it's time to switch to managed IT services. Managed IT services set up your company for success and give you the peace of mind that whenever an issue does arrive, it can be solved as quickly as possible by people you trust.
ABQ-IT is a locally owned business that supports businesses of all sizes all over Albuquerque and throughout New Mexico. Our managed IT services ensure your company is getting the highest level of care. ABQ-IT thrives when our community's businesses are thriving, so our goals are your goals. Let us provide you with the assurance of managed IT services for Albuquerque businesses.