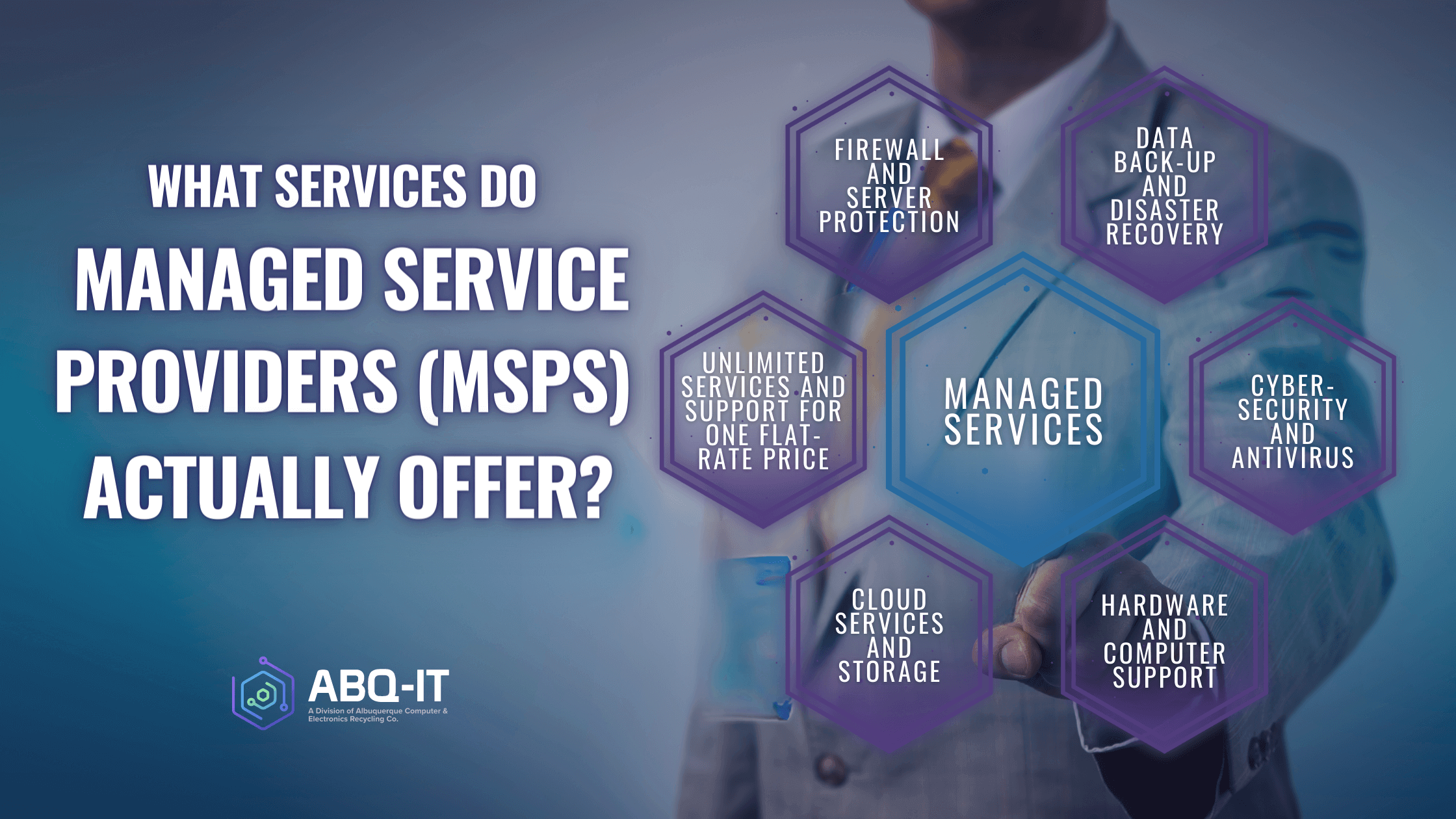 What Services Do Managed Service Providers (MSPs) Actually Offer?
If you own or operate a business, chances are you either have IT staff on your team or work with an IT service provider to meet your business's IT needs. But you may be piecing together those services from a few providers, which is fairly common and unnecessarily complicated.
If so, ABQ-IT wants to present you with a better way to address all the types of managed services you're paying for. But before we get there, let's talk about what offerings a managed service provider has and the different places you might be accessing those services.
Types of Managed Services
When business owners or operators talk about managed service providers, they're not always talking apples to apples. Any of the following are considered within the scope of a managed service provider.
Hardware and Computer Support
One of the staples of managed IT services is hardware and computer support. Nearly every business needs hardware of some kind, whether that is a point of sales system, laptops or tablets for staff, or complete desktop set-ups for employees.
There are a variety of ways businesses deal with the cost of hardware. Often the initial hardware cost is covered by start-up funding. But what happens as the team expands and as hardware needs to be upgraded?
Computer Hardware Sales for Businesses
Depending on the size of your business, you may or may not be rolling down to a big box store whenever your employees need new computers. You might purchase directly from Apple, Dell, etc., or from Amazon, Best Buy, or another reseller.
Buying hardware can be challenging because if you're buying in bulk, it sure would be nice to have access to a bulk discount. And some businesses also provide mobile devices and tablets for employees, adding to the hardware costs.
This is where managed IT services can come in handy. A managed service provider likely has access to wholesale pricing and can even get you deeper discounts on refurbished tech to save your business more money.
Hardware Financing
It's not uncommon for businesses to finance the cost of hardware with a business loan. The life of the loan shouldn't exceed the lifespan of the technology, because you'd hate to be still paying for tech that didn't even work anymore. Hardware lasts for three to five years, so keep that in mind if you're considering a business loan for technology.
Aside from financing, it can be a good idea to ask for an outside opinion to budget for replacing your hardware the next time it needs to be replaced. It's common to underestimate the cost of new tech, forgetting about installation costs, software costs, and any other costs you weren't anticipating. Getting a quote from an IT professional can help your business save the right amount.
Computer Support Services
Support services are the bread and butter of most IT companies. IT companies that provide managed IT services provide ongoing support services for their customers, usually for a monthly cost, instead of per ticket.
Depending on the needs of the business, a monthly IT service provides cost savings, and assurance that help will be quickly on the way whenever an issue arises. Employees are able to build rapport with technical support and have the peace of mind of knowing that IT support is familiar with their operating systems and hardware.
A managed service provider can provide remote support, in many cases, by remotely logging into the computer or server that is having trouble. Or, technical support may arrive in person to help with computer support as needed.
Firewall and Server Protection
Firewalls are the first line of security in most businesses, providing network security by monitoring incoming and outgoing traffic to the server based on security parameters established by the company and its IT professionals.
Types of Firewalls
Firewalls come in many forms—hardware, software, SaaS, private cloud, or public cloud. Businesses can purchase a firewall directly from a provider (like Cisco, for example) or consult with a managed service provider to determine the best fit for their business. A firewall is an example of a technology that a business might manage on its own or with the help of a managed service provider.
Why protect your server?
As we will get into more, cybersecurity is a significant need of most businesses, and protecting your server is just one aspect of protecting a business. Having an effective firewall ensures that people aren't entering your server without the proper identification and that they aren't removing secure data from that server.
Cloud Services and Storage
Cloud services have become a major sector of managed IT services. Gone are the days of businesses filled to the brim with paper files. Everything is in the cloud now.
Businesses have different needs for cloud services. Maybe your business works just fine with Google Drive, iCloud, or Microsoft Azure. These are all examples of public cloud services. There is a certain amount of free or low-cost storage, and then these business models charge businesses a premium for more storage.
Some businesses opt for a service provider that offers private cloud services for cloud computing. This would mean the storage was only available to that company and a private cloud is more secure.
As with the other managed services we've mentioned so far, some businesses purchase their cloud services a la carte, while others work with their IT providers to get cost-effective solutions that work best for them.
Cybersecurity and Antivirus
Managed IT services are the ideal place to turn to for cybersecurity and antivirus support. However, some businesses piecemeal together their cybersecurity efforts by purchasing various antivirus software, offering internal trainings on cybersecurity, and utilizing internal IT staff.
Cybersecurity includes so much these days. Cyber crime is a massive problem, as cyber criminals took full advantage of remote work during the pandemic to wreak havoc on vulnerable systems. Forbes reported that cyber criminals stole $6.9 billion in 2021, much through social engineering.
Proper cybersecurity includes personnel training, firewalls, data loss prevention, identity access management, network access control, cloud security, mobile security, and so much more.
Cybersecurity can also include remote monitoring, providing instant updates if anything nefarious is going on in your server. Managed security services are an extension of both cybersecurity and managed IT services and includes remote monitoring of your firewall, VPN, and more.
Data Back-Up and Disaster Recovery
Data back-up and disaster recovery are other facets of managed IT services that are essential for most businesses. There is a bit of an overlap with cloud services because many businesses simply back up their data to the cloud and call it good.
But, it's important for a business to have a disaster recovery plan in place in case of a hard drive failure, another system failure, or even a natural disaster that could destroy the hardware and data in a business.
It's recommended that businesses have both an onsite and offsite backup and have discussed things like recovery point objective and recovery time objective. This takes into account how often your server is being backed up (every 12 hours is fairly standard, but check your service level agreement) and how long you plan to take to get back online if you were to lose your onsite data in an emergency.
Businesses that don't have a serious plan for hard drive crashes and other disasters are taking a huge risk. Working with an IT professional is the best way to ensure you have an actionable and reasonable plan for disaster recovery.
Unlimited Services and Support for One Flat-Rate Price
As a managed IT service in Albuquerque, we truly do things differently than other IT companies. It's not uncommon for businesses to fill all of these IT needs from different service providers. Maybe they're purchasing their hardware from one location, buying cloud services from another business, trusting internal IT for cyber security training and data back-up, and purchasing antivirus software based on industry standards.
What if there was a more streamlined way to manage all of your IT needs with one flat-rate price? At ABQ-IT, this is our business model. Our pricing is based on a per-user model, and it includes everything you could possibly need.
New hardware costs? Rolled into your flat-rate monthly cost. Remote assistance for day-to-day issues? Included in your managed IT services. Cloud storage. Included. Cybersecurity. Included.
Know exactly what your IT costs are, and pay them as an operational cost instead of big capital expenditures with managed IT services from ABQ-IT.
We love helping businesses of all sizes come up with custom IT solutions that meet the needs of their business. And, we help our customers think of things they may not have otherwise. We ask the hard questions and follow up until we are satisfied with the answers. Like, how do you know your backup systems are working? Or are you sure that no one has access to your server that isn't supposed to?
Get started with unlimited services and support from a managed IT service provider unlike any other by calling ABQ-IT at (505) 582-6583 for a free consultation today.