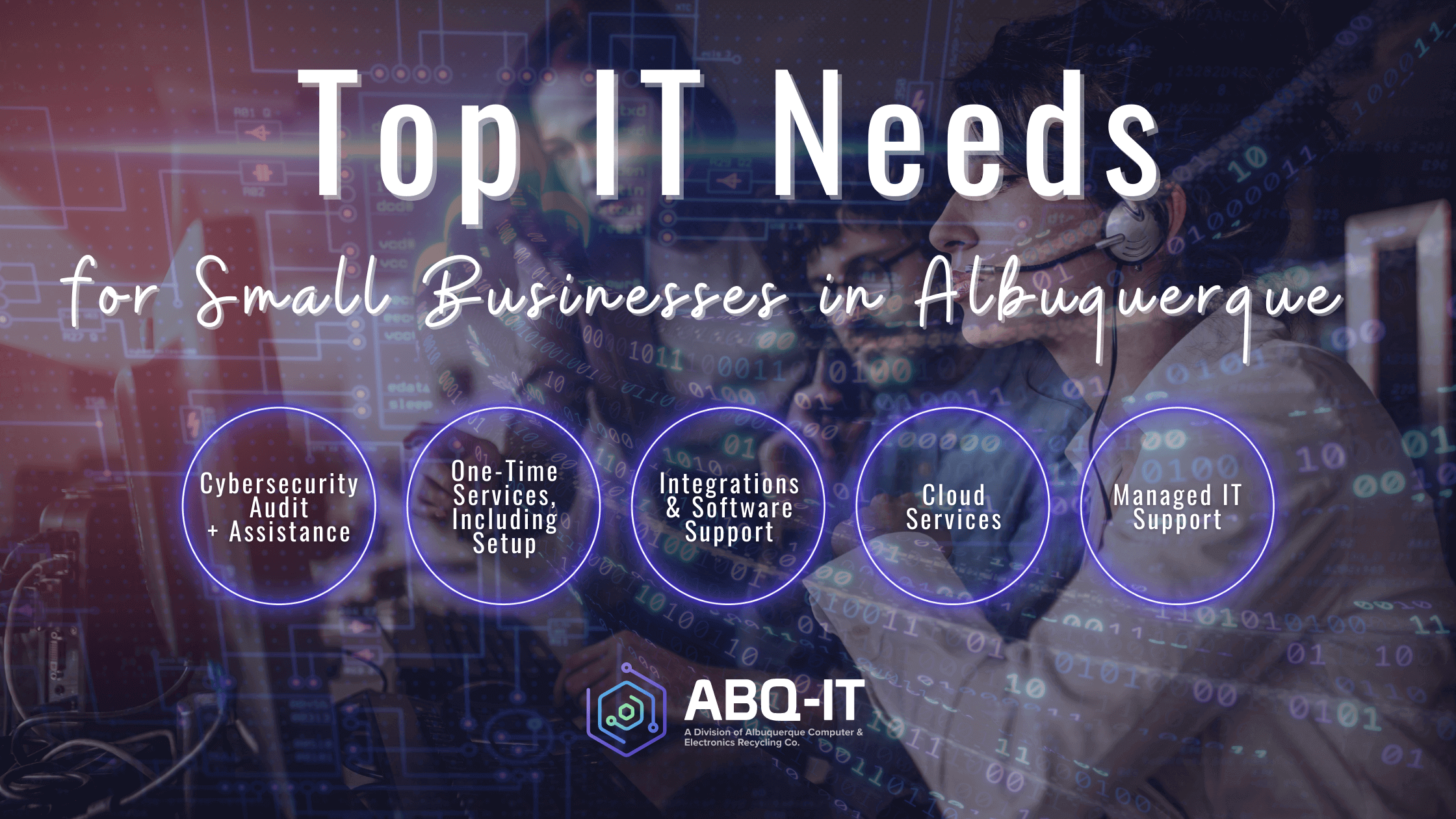 Top IT Needs for Small Businesses in Albuquerque
At ABQ-IT, we serve businesses of all sizes. In our industry, we've run into other IT companies requiring that businesses be a minimum size before they offer their services. This is not the case at ABQ-IT. In our opinion, no business is too small, and all businesses have IT needs.
We certainly have the expertise on our team to support our large businesses here in Albuquerque. But we love our small business clients too. Here are some of the top IT needs our small businesses have. Can you relate? If so, it's time to call us at ABQ-IT and get started with a free consultation to see how we can help!
Cybersecurity Audit + Assistance
It's not just megacompanies with tons of secure data that run into issues with cybersecurity. Small businesses can be especially vulnerable to cyber attacks because they may not have the systems, procedures, and software in place to protect them.
Often, small businesses come to us wanting to know where they are vulnerable and how to fix those vulnerabilities. Cybersecurity audits are a service we love providing since we feel strongly that every business should be able to operate securely on the internet and beyond.
One-Time Services, Including Setup
Our professional IT services or one-time IT services are very common for small businesses. We have small companies reach out to us and ask for assistance setting up new hardware, a network, a firewall, or other one-time setup services.
ABQ-IT also performs back-up and recovery, installs servers, storage, cabling, and telecom. We understand that businesses have one-time and emergency IT support needs. We always offer complimentary IT consulting to see how we can best find a solution to your challenge, and then we will set you up for success. 
Integrations & Software Support
Nowadays, most businesses operate cloud-based CRMs and using all kinds of software for day-to-day tasks. Individual software companies usually have a support system for consumers to reach out to, but sometimes support can take a long time to respond. Additionally, they might be unable to answer your questions on how that software integrates with another.
We certainly aren't experts on all software small businesses use, but chances are, we can probably help you figure it out. If your small business has run into an IT problem concerning integrations or software, give us a call, and we can provide you a better idea of whether or not we can help.
Cloud Services
Nearly all businesses and individuals rely on cloud services now. Often paper files are obsolete, and all of your data and information for your business is contained in online storage—via the cloud. If you're looking for private cloud services, ABQ-IT always points customers to CompleteCloud by Avatara. We partner with CompleteCloud and set up our clients with unlimited CompleteCloud storage that will put their minds at ease when it comes to security as well.
Managed IT Support
If your Albuquerque small business relies on technology, you might be ready to consider managed IT support, where you have ABQ-IT in your corner 24⁄7. If you want priority service when those emergencies pop up, and you want to pay a fixed fee that will cover all of your IT needs (including hardware replacement), it's time to switch to managed IT support. We love helping small businesses do what they do best by supporting their IT day in and day out.
Call ABQ-IT Today for a Consultation
If you own or operate a small business in Albuquerque and have one of these IT needs, give us a call or fill out the contact form on our website. We'd love to add your business to the list of local ABQ businesses we support!